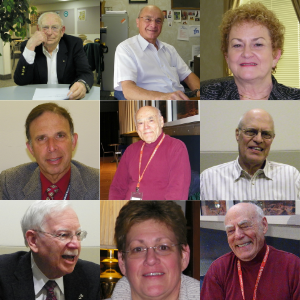 Per our primary mission, the Southeastern Pennsylvania Cold War Historical Society engages in collecting and preserving oral histories from current and former residents of southeastern Pennsylvania who contributed to activities aimed at protecting the United States during the Cold War.
Since July 2010, we have interviewed over 100 individuals (some during multiple sessions).
We generally interview one to two individuals per session. The location is variable, but most interviews are conducted at the Fuge (780 Falcon Circle, Warminster, PA 18974). If preferred, we also travel an interviewees residence.
Once audio and digital releases are co-signed by the interviewee(s) and our organization interviewer(s), recordings are made with a digital camcorder and are augmented with a digital audio recording and a digital photograph of each interviewee. These assets become part of our organization's growing historical archive.
We hope to have our interviews transcribed and the digital and written assets made available for research purposes.
In addition, interviewees and their family members may receive a copy of interview assets upon oral or written request.
Our interviewees were stationed at, or worked in some of the following locations:
Naval Air Development/Warfare Center, Warminster, PA (and secondarily, Naval Air Station Patuxent River, Lexington Park, MD)
Nike Missile Bases formerly located in Warrington, PA and Levittown, PA

For more information on the Nike-Hercules Defense System, check out the following links:
Teufelsburg (former National Security Agency listening station located in the former West Berlin)

For more information on this Cold War listening station, check out the following links:
Are you interested in conducting an oral history? Check out the resources below, or contact us (via our contact page) for guidance!
An emerging topic in oral history is preserving a digital legacy. This is a fascinating (and somewhat unsettling documentary) from the Wall Street Journal on the subject (subscription may be required to view):
Highlights of some of our interviews may be found on our YouTube Channel:
Artifacts
Some of our interviewees have donated photographs and other items to our organization, including personal papers, awards, coffee mugs, prototypes, etc.
While our primary mission is to collect oral histories, we will never turn away artifact donations, particularly if it means that the items would be otherwise discarded. We provide a gift accession form to document the donations, and should you change your mind, you may always retrieve the artifacts.
We take our larger historical stewardship role very seriously. If you would like to discuss artifact donations, please contact us.